"The fairways are typically generous, but our bunkering style is impressively bold." Nick Faldo, Course Designer.
Six-time major champion Nick Faldo is known for his unstinting pursuit of excellence as a player, and one of the reasons he was the 2008 European Ryder Cup Captain. Shadow Ridge Golf Club is evidence of his same high standards as a golf designer.
Related Documents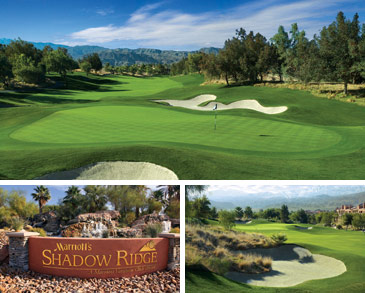 Scorecard & Stats
Acclaimed Design
Already established as an internationally acclaimed designer, Faldo's talents were first unveiled in the United States at Shadow Ridge Golf Club. His vast international experience and passion for strategic design are seen on every hole, drawing inspiration from the great sand-belt courses of Australia. Faldo's design at Shadow Ridge Golf Club includes greens that have plenty of subtle undulations and encourage a variety of approach shots.
Course Specifics
| Tee Name | Gender | Course RatingTM/Slope Rating |
| --- | --- | --- |
| Black | Men | 73.9/136 |
| Green | Men | 71.9/131 |
| Gold | Men | 69.6/125 |
| Combo (Gold/White) | Men | 67.4/120 |
| White | Men | 65.1/114 |
| Black | Women | 81.0/149 |
| Green | Women | 78.6/144 |
| Gold | Women | 75.9/138 |
| Combo (Gold/White) | Women | 73.3/132 |
| White | Women | 70.5/126 |